STECCA3 | Centro socio-culturale
(english below) 
Il centro socio-culturale Stecca3 è una casa per associazioni e attività socio-culturali tra quartiere Isola e Porta Nuova a Milano. E' uno spazio ibrido che offre un crossover di contenuti, apre ad una pluralità di popolazioni ed usi, propone nuovi format culturali e momenti di aggregazione, tenta di coniugare innovazione ed inclusione sociale.
L' Incubatore dell'Arte, detto Stecca3, è un edificio di proprietà del Comune di Milano di circa 760 mq dato in gestione alla rete di associazioni ADA Stecca con un contratto pluriennale, costi di mantenimento dell'edificio a carico delle realtà associative e la condivisione di un programma socioculturale con la Pubblica Amministrazione e il Municipio 9.
Stecca3 è una nuova architettura contemporanea, flessibile e adattabile, progettata da SBA-Stefano Boeri Architetti nel 2007. L'edificio di proprietà comunale, nasce come spazio di aggregazione e servizi autorganizzati, parte degli oneri di urbanizzazione dello sviluppo   immobiliare Porta Nuova, come il Parco BAM-Biblioteca degli Alberi e Casa della Memoria.
Stecca3 è parte di una rete informale di spazi ibridi a Milano che, soprattutto in questi lunghi mesi di continui lockdown, si sono dimostrati fondamentali per creare ed incentivare rapporti di prossimità, servizi di welfare collaborativo ed economia solidale (Cacciari, 2016), il più possibile inclusivi.
STECCA 3 | COME FUNZIONA L'USO DELLO SPAZIO?
La Stecca 3 è un edificio a corpo longitudinale che si sviluppa su 2 piani; ha al piano terra 3 spazi dedicati a laboratori e al primo piano degli spazi dedicati ad ufficio e corsi. Sia al piano terra che al primo piano ci sono spazi flessibili con saloni ampi ed aperti per accogliere a rotazione corsi, workshop, seminari, dibattiti pubblici, eventi, performance, cene sociali..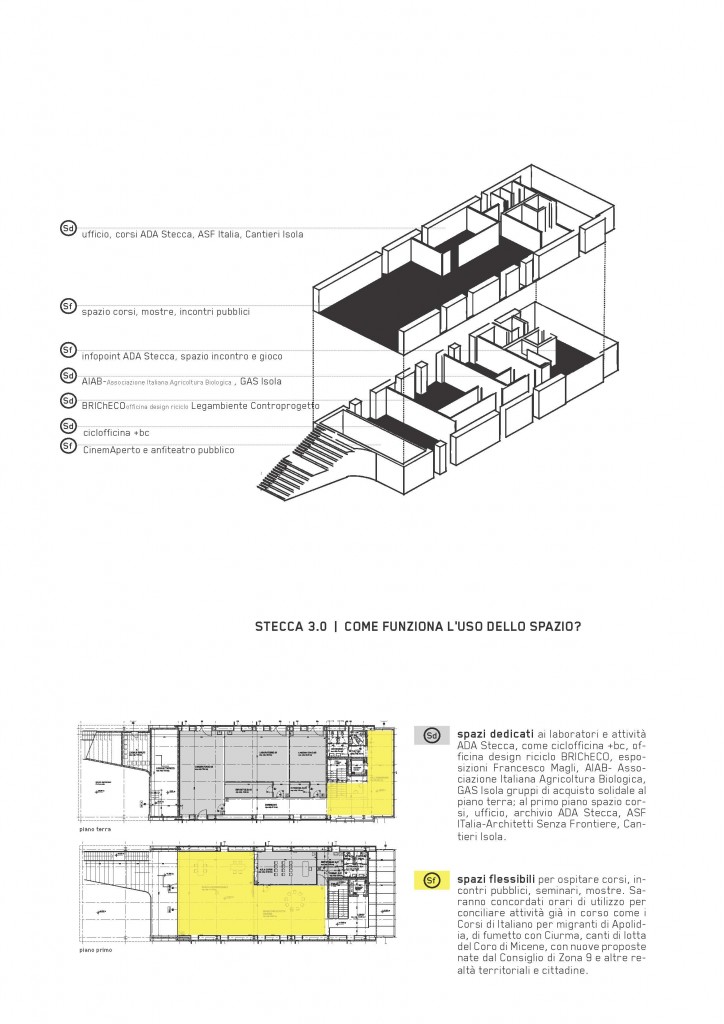 Vuoi condividere un tuo progetto o iniziativa alla Stecca 3?
Scarica il MODULO X L'USO DEGLI SPAZI, compilalo e inviacelo a: info@lastecca.org
Leggi il nostro REGOLAMENTO DI GESTIONE per l'uso degli spazi comuni e a rotazione.
(english)
STECCA3 | sociocultural center
The Stecca3 socio-cultural center is a home for associations and socio-cultural activities between the Isola and Porta Nuova districts in Milan. It is a hybrid space that offers a crossover of content, opens up to a plurality of populations and uses, proposes new cultural formats and moments of aggregation, tries to combine innovation and social inclusion.
Art incubator is the official name given by the Municipality of Milan, but it is called Stecca3, it is a building owned by the municipality of about 760 square meters given to the management of the ADA Stecca network of associations with a multi-year contract, maintenance costs of the building a load of the associations and the sharing of a socio-cultural program with the Public Administration and the Municipality 9.
Stecca3 is a new contemporary architecture, flexible and adaptable, designed by SBA-Stefano Boeri Architetti in 2007. The building owned by the municipality, was born as a space for aggregation and self-organized services, part of the urbanization costs of the Porta Nuova real estate development, such as the Park BAM-Library of Trees and House of Memory.
Stecca3 is part of an informal network of hybrid spaces in Milan which, especially in these long months and years of continuous lockdowns, have proved to be fundamental for creating and encouraging proximity relationships, collaborative welfare services and solidarity economy (Cacciari, 2016), as inclusive as possible.
STECCA 3 | HOW DOES THE USE OF SPACE WORK?
La Stecca 3 is a longitudinal building spread over 2 floors; has on the ground floor 3 spaces dedicated to laboratories and on the first floor spaces dedicated to offices and courses. Both on the ground floor and on the first floor there are flexible spaces with large and open halls to host courses, workshops, seminars, public debates, events, performances, social dinners in rotation.
Do you want to share your project or initiative at Stecca 3?
Download the FORM FOR THE USE OF SPACES, fill it in and send it to: info@lastecca.org
Read our MANAGEMENT REGULATION for the use of common and rotating spaces.